At Unitech Machinery, we offer both standard and bespoke spray booths. With our experienced designers, engineers and installation teams, we can build a spray booth to meet your exact requirements. With our experience of over 50 years in this industry, we have helped many customers find the perfect solution.
Based in Burntwood, our booths are all manufactured in the UK at our own factory. Our equipment is always high quality, robust and designed to last in the busiest of environments. We take great pride in providing equipment that delivers high performance and reliability.
Spray booths are used for the spray painting of many different products, ranging from furniture and cars, to larger equipment such as construction machinery and aircraft. Essentially, anything that needs a coating application, whether decorative or functional (or both), can require the use of a spray booth.
Spray booths can be enclosed or partially enclosed structures designed to contain and filter paint overspray – a major factor in keeping staff, the environment and any other surroundings safe. They are purposely built to be fire and explosion proof, eliminating any potential hazards that may arise when working in the controlled area.
Our range of automotive spraybooths are designed to suit every application from the small body repair shop to vehicle manufacturing operations. All styles are incorporated in our range – from full downdraught, semi downdraught and cross-draught designs. As well as excavated, raised floor, floor mounted rear or side wall designs. Many booths also incorporate LED lighting, flash off systems and variable speed drives as standard.
We design, manufacture and install a vast range of spray booths and ancillary equipment. The range comprises:
Dry filter extraction units.
Open fronted and enclosed dry filter spraybooths and rooms.
Open fronted water wash spray booths with rear water curtain, pumped and pumpless.
Enclosed underfloor extraction systems.
Large industrial dry filter spray booths for aircraft, railway carriages & large equipment.
Down draft spray booths for aircraft, railway carriages & construction equipment etc.
Waste water treatment facilities.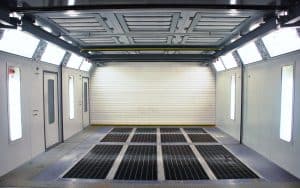 This wide range ensures we can accommodate products ranging from anything such as mobile phones to commercial aircraft. Our products range from small one-off booths for manual application, to precision automated systems featuring robotic material application, multi-component material mixing/delivery and sophisticated handling equipment – all backed up with state of the art control systems. We offer support equipment such as air replacement plant, sludge coagulation systems, paint kitchens, de-ionisation and application equipment.